Best Places to See Elephants in Southeast Asia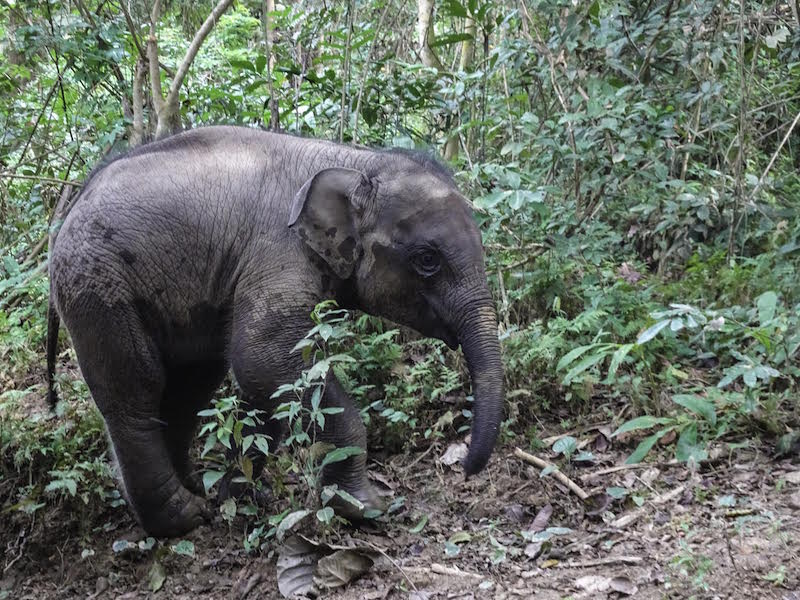 If you're looking to see elephants in Southeast Asia, it's important to do your research. Check out these recommendations from my fellow travel bloggers. 
About the Responsible Wildlife Encounters Series
Inspired by my recent visit to the island of Palawan in the Philippines, where I was lucky enough to swim with whale sharks in a completely natural settling, I wanted to spread the word about other tours, attractions and experiences that are encouraging positive interactions between humans and nature. So I asked some fellow travel bloggers to share their favorite responsible wildlife encounters from around the world.
This is the third post in a four-post series, specifically highlighting the best places to see elephants in Southeast Asia – those that focus on education and conservation instead of exploitation.
Where to See Elephants in Southeast Asia
Kuala Gandah Elephant Sanctuary in Pahang, Malaysia
Contributed by Erin of Traveling Thru History
Kuala Gandah Elephant Sanctuary is an elephant preserve that has been around since 1989. It provides a place for elephants who are damaging farmland around Malaysia to go and be cared for before they are relocated to different preserves or national parks in the region. Sanctuary staff try to get the elephants moved out within a few months, but some end up staying longer due to illness or injury. The main purpose of the sanctuary is to help and preserve the elephants in Malaysia, since they are on the Critically Endangered list. To do that, they work on educating and making the public aware of the plight of the Malaysian elephants along with ensuring these elephants have a safe place to live once they are relocated.
Elephant Nature Park in Chiang Mai, Thailand
Contributed by Vicky of Buddy The Traveling Monkey
We had heard about Elephant Nature Park before our trip to Thailand through other bloggers. They all spoke so highly about the park and the good things that were being done there for recovering elephants, so we made sure to visit during our stop in Chiang Mai. It was an incredible experience, and one that we'll never forget. We were able to interact with the elephants by feeding them and splashing them with water while they bathed in the river, but what we loved most was that it was all on the elephants' terms. If they got bored of us, they simply walked away. At no point were they forced to be near us. There were no chains. There were no ropes. At Elephant Nature Park, the elephants were treated with respect. Read about Vicky's experience here: Visiting Elephant Nature Park In Chiang Mai, Thailand.
Mahouts Elephant Foundation in Chiang Mai, Thailand
Contributed by Ellie of Soul Travel Blog
They say "once bitten twice shy." This has certainly held true for elephants and me. In 2006, unaware of the plight of elephants and the cruelty sometimes involved in elephant tourism (particularly where riding is involved) I rode an elephant. I vowed never again.
During my recent trip to Northern Thailand, I began my search for ethical elephant projects that promoted and protected the welfare of elephants above the bucket-lists of visitors. I struck gold. I spent three days in the mountains of Northern Thailand, in Mae Hong Son, with the wonderful Mahouts Elephant Foundation. Mahouts are a charity that was set up in 2014 with the aim of rescuing elephants from poor-to-appalling conditions in camps, and bringing them and their Mahouts back home to Karen villages and forests to live a free-er life. In a country like Thailand where there are more elephants in captivity than there are in the wild, this is a huge step.
My time at Mahouts involved staying in a Karen village in a rustic homestay, camping in the forest, and walking with the four elephants and their mahouts through the forest. What was wonderful about this experience was not only getting the chance to support the work that Mahouts are doing, but it was clear also who was taking the lead. We were following the elephants, as opposed to making them do things to amuse us. Due to having spent most of their lives in captivity, and them being used to humans, it was safe to be close to the elephants. No riding is offered, no washing the animals is offered – interaction is clearly on the elephants' terms. That said, these are friendly elephants, particularly Santi the baby, who was not certainly not shy and ran into me with a muddy trunk on more than one occasion! Read about Ellie's experience here: Freedom Re-found: Walking the Elephants Home.
MandaLao in Luang Prabang, Laos
Contributed by Hannah of Eat Sleep Breathe Travel
With so many elephant tourism options available in Luang Prabang, it was harder than expected to find a responsible one – an organization that really was a sanctuary, offering no riding and caring more about the welfare of the animals than they money. But, MandaLao does just that. A new elephant sanctuary that started in August 2016, this organization brings out small groups of tourists who are looking for a responsible elephant encounter. Bathing, feeding, and trekking alongside these amazing animals is the attraction here, and both full and half-day options are available. At this time MandaLao is home to six elephants; five adult female and one baby male, all of which were rescued from the logging industry. Spending a day with them is a once in a lifetime experience that will not disappoint. Read about Hannah's experience here: MandaLao Tours: The Ultimate Elephant Encounter in Laos.
Mahouts Elephant Foundation also recommends supporting these organizations, which promote responsible elephant and wildlife tourism in Asia.
Check out the other posts in the series:
Responsible Wildlife Encounters from around the World  
More Responsible Wildlife Encounters from around the World
Best Places to Volunteer with Animals around the World
Pin it!
---
---