I'm Brianne Miers, and I'm a Boston travel blogger who is working to see the world by balancing my career as a communications consultant with a life of travel. Read on to learn more.
When did my "traveling life" begin?
I was a lucky 11-year-old girl from New Jersey when I accompanied my parents, my younger brother and my dad's high school social studies class on a three-week trip to China. That was all it took for travel to consume my every daydream – and every spare dollar and hour of vacation time – for the next 20+ years.
However, since my parents were teachers, and we lived in a small town, most of our vacations were to destinations within driving distance – various battlefields, museums and historical sites (and yes, the Jersey Shore too!). In addition to China, my only other international trips during elementary school and high school were visiting a pen pal in Canada, and spending a whirlwind week in Europe – visiting London, Brussels and Amsterdam – during my freshman year.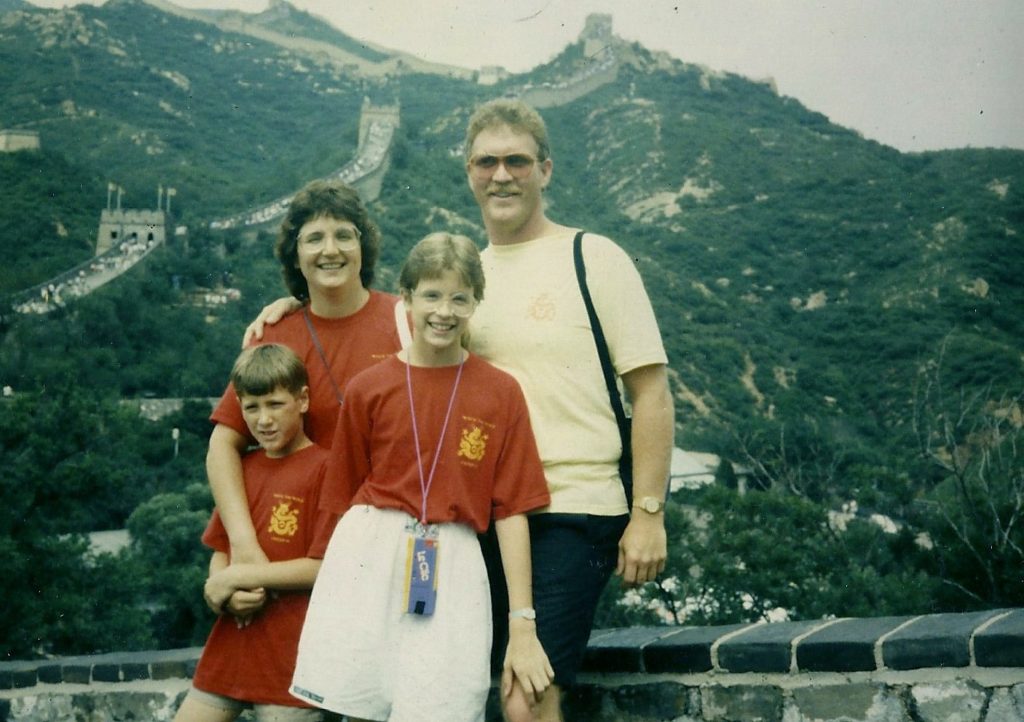 How have I traveled so much?
I knew from the moment I entered Syracuse University that I was going to study abroad. SU has an extensive study abroad program, so I was able to spend spring semester of my junior year in the lovely Alsacien city of Strasbourg, France. Thanks to the program's focus on "European Identity," we traveled nearly every weekend to other cities like Amsterdam and Paris, and on a week-long class throughout Eastern Europe.
After college, I moved across the country to Boulder, Colorado, and spent nearly three years at an intense job with a low salary and few vacation days, so most of travel was back to New Jersey to visit family. When I returned to the east coast for graduate school at The George Washington University in Washington, D.C., I knew I wanted to make the most of having a summer off, so I volunteered for two months teaching English in Pokhara, Nepal.
As my career progressed in D.C. and then Boston, I became a pro at being very creative with budgeting and vacation days. In summer 2013, I founded my own communications consulting agency, Kind Communications, with the goal of having more flexibility to travel. While self-employment definitely has its challenges, I've been able to enjoy opportunities that would not have been possible with a full-time job.
Where have I been?
To date, I've been to more than 50 countries – my favorites include Thailand, Colombia and Croatia. Two recent long-trips include spending two months in Southeast Asia during Fall 2014, two months in India during Winter 2015 working for The Travel Scientists and one month traveling in Spring 2018 (including spending two weeks at sea on the Nomad Cruise).
Where am I going in 2018?
2017 was one of my biggest years of travel yet, so 2018 has a lot to live up to!
January: I escaped chilly Boston for a weekend in Miami and then spent about a week in New York City for TravMedia's International Media Marketplace (IMM) and The New York Times Travel Show.
February: I met up with a friend in Copenhagen, Denmark, stopping in Reykjavík, Iceland, on the way over for 48 hours. 
March & April: I was home Boston for almost two months straight, which is quite unusual! But I did my first staycation at the enVision Hotel Boston Everett and did some sightseeing at nearby attractions.
May: I attended my fourth Women in Travel Summit in Quebec City, Canada, celebrated my birthday with friends in Santa Barbara, California, and enjoyed hosted trips with both Newport Beach and Somerset County, New Jersey.
June: I spent a week in "vacationland" – Maine! – during which I stayed at two fantastic new boutique hotels, The Francis (Portland) and 250 Main (Rockland), and sailed for a long weekend on the windjammer schooner J. & E. Riggin.
July: I attended my 9th Green River Festival (It was the 8th time attending with my dad!).
August: I'm taking the month off of travel and spending time with family in New Jersey.
September: I'll be heading to my second TBEX in the Finger Lakes (New York).
What are my interests?
I started this blog in summer 2015 with the goal of encouraging professionals to take time away from their busy lives to travel. I wanted to share stories of those of us who have responsibilities like jobs, homes, pets, as well as spouses and children, yet still make travel a priority to inspire others to do so too. I also enjoy providing travel advice and tips based on what I've learned over the years in order to make travel easier and more accessible.
I am committed to traveling as sustainably as possible. For me that means leaving a light environmental footprint and ensuring my tourist dollars benefit local communities. I enjoy spreading the word on sustainable travel, and so I represent several organizations in this space including Giving Way, Visit.org and the Impact Travel Alliance. My other areas of expertise include solo female travel, budget travel, long-term travel, and adventure travel.
What is my blogging philosophy?
I have never accepted advertising on my blog, and I have never accepted a sponsored post (paid content). However, I have received complimentary travel experiences, including hotel stays and tours, in exchange for promotion on my blog and social media channels. I will only partner with brands that I have already used or would use during the normal course of my life and travels – not just because they're offering me a "freebie." My reviews are completely honest and not influenced by these companies in any way.
Want to learn more?
Please review my policies and feel free to contact me with any questions or opportunities to collaborate. Thanks for reading and happy traveling!