Bridge of Flowers and Glacial Potholes of Shelburne Falls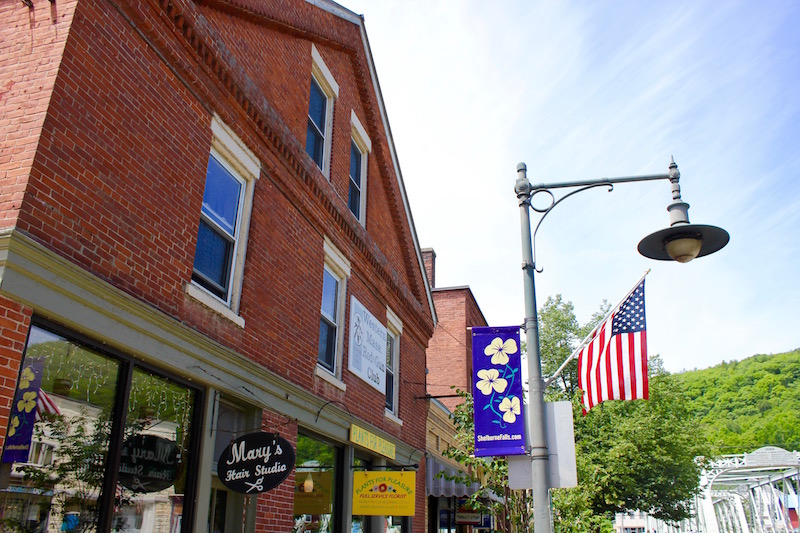 Each year when my dad and I attend the Green River Music Festival in Greenfield, Massachusetts, we look for new places to explore on our way to or from my home in Boston. Together we've wandered around some of my favorite Massachusetts towns including Concord and Northampton, and once, after spending the night in Brattleboro, Vermont, we took a scenic drive home through New Hampshire.
This year as we were leaving our bed and breakfast, Poetry Ridge, on Monday morning following the festival, the owner recommended that we head to Shelburne Falls, a place that hadn't been on my radar. Even though it was about 20 minutes west – in the opposite direction of Boston – we decided to check it out.
We found the village of Shelburne Falls to be a typical New England town – lining its main street is a church, book and antique shops, and restaurants. What draws visitors around the world to its spot on the banks of the Deerfield River are its two one-of-a-kind attractions, the Bridge of Flowers and the Glacial Potholes. The Bridge of Flowers is exactly what it sounds like – more than 500 varieties of annuals and perennials camouflage an old trolley bridge that was abandoned in 1928. The Glacial "Potholes" are actually 50 natural pools ranging from six inches to 39 feet in diameter that were carved into the metamorphic rock 14,000 years ago. Take a look…
Tips & Recommendations
Less than 2,000 residents live in Shelburne Falls, but its downtown has a lot to offer. There are art galleries, books shops, yoga studios, and even a bowling alley. We enjoyed some snacks and coffee at Mocha Maya's.
If you're planning on exploring more of the Pioneer Valley of Western Massachusetts, here are my recommendations.
---
---