There's something for everyone in the Pioneer Valley!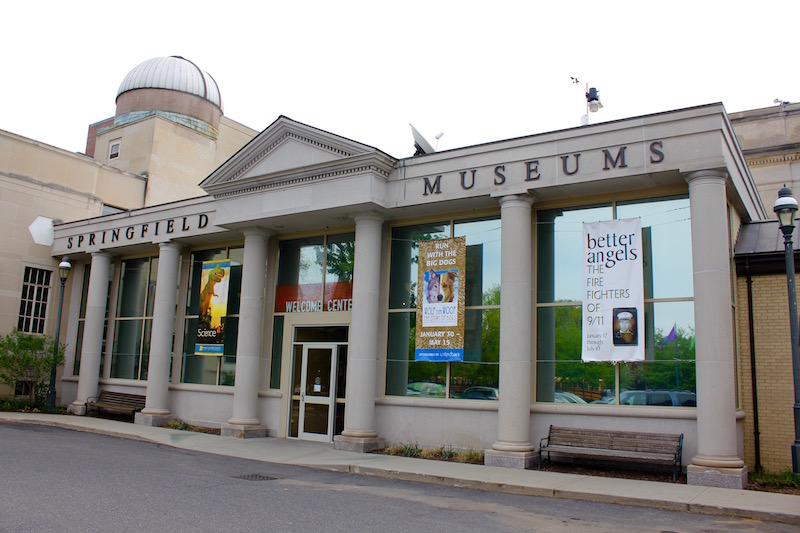 As much as I love living in Boston, I also love getting out of the "big city" from time to time and experiencing what the rest of New England has to offer. Fortunately I have a lot of fantastic road-trip destinations to chose from right here in Massachusetts. One favorite is the "Pioneer Valley," a cluster of three counties that sits about two hours west of Boston. On my most recent trip there, I discovered it's jam-packed with attractions certain to entertain travelers of all types including:
History Buffs – Thanks to my dad being a history teacher, I've seen my share of cemeteries, battlefields and other important sites in our nation's military history. Springfield Armory – the first stop on my recent three-day tour of the Pioneer Valley – is one such site. The nation's first armory, it pioneered the development of firearms for 200 years, and in doing so, helped establish Springfield as a hub of industrial innovation. Today it's part of the National Park Service and houses one of the largest collections of military small arms in the world, along with displays of machinery and early life in Springfield. 
You can also head about 45 minutes north of Springfield to Historic Deerfield, which still looks much like it did in the 18th century, and tour the 12 museum houses there. (I was a guest of the Deerfield Inn in January. You can read more about my visit here.)
Adrenaline Junkies – Six Flags New England is the largest amusement park in New England and the oldest in the Six Flags system. However, due to a conflict, I wasn't able to join my other Boston blogger friends, Yadira and Yamini of The Two Riveras and Alex and Bell of Wanderlust Marriage as they conquered rides like the aptly named Goliath, a "super coaster." Being a total adrenaline junkie, I was disappointed to miss out, but I hope to get back this fall and experience the thrills for myself. (You can read what Wanderlust Marriage had to say about their day at Six Flags here.) 
Sports Fanatics – Springfield is the birthplace of basketball, and today fans flock to the Naismith Memorial Basketball Hall of Fame to celebrate the biggest names that have coached, refereed and played the sport over the past 125 years. I enjoyed learning about the early days of the game, as well as checking out memorabilia like Shaq's massive shoes, seeing how my wingspan measures up against players like Yao Ming, and shooting some hoops. The highlight was the chance to pay homage to Jim Boeheim, the head coach of the men's basketball team at Syracuse University, my alma mater.
Tip: There is no shortage of burger and bar eats nearby – check out Max's Tavern, Samuel's and b Springfield.
Nature Lovers – I've been to Springfield several times over the years for work, but I never knew that the third-largest city in Massachusetts has been hiding one of the largest urban, municipal parks in the U.S. After lunch at Center Square Grill in East Longmeadow, Alex, Bell and I headed to Forest Park to get some fresh air and sunshine. We were pleasantly surprised to find more than 735 acres of hiking and biking trails, gardens and fields, in which we could have gotten lost for hours. Designed by Frederick Law Olmstead, the park also houses a swimming pool and zoo.
There are plenty of other places where you can enjoy the natural beauty of the Pioneer Valley – head to Mt. Tom State Reservation in Holyoke or Skinner Mountain State Park in Amherst for great hiking and spectacular views.
Cultural Connoisseurs – Good thing I visited the Springfield Museums by myself because I spent nearly four hours exploring room after room of treasures spread throughout the four-museum complex. My first stop was the Springfield Science Museum. With a planetarium, life-sized T-rex and replicas of African animals, it's perfect place to go with young kids. Next stop was the G.V.W. Smith Art Museum, which houses the Smiths' eclectic personal collection – everything from 19th-century American art to samurai armor to Greek and Roman sculptures. I spent the bulk of my time in the D'Amour Museum of Fine Arts, taking in an impressive temporary exhibit of photographs from the pictoralist movement.
Of the four museums that comprise the Springfield Museums, the only one I didn't get to was the Wood Museum of Springfield History, so that's on the list for next time!
Tip: One ticket will get you in to all four museums, so it's a great deal.
Book Worms – The Dr. Seuss National Memorial Sculpture Garden, located in the courtyard of Springfield Museums, honors Springfield native Theodor Seuss Geisel with a whimsical display of the author and his most beloved characters. (I took a selfie with my personal favorite, the Lorax). I can't wait to come back and check out The Amazing World of Dr. Seuss Museum when it opens nearby in 2017.
My last stop in the Pioneer Valley was The Eric Carle Museum of Picture Book Art, which celebrates the work and life of illustrator Eric Carle, whose classic picture book, The Very Hungry Caterpillar, has been a favorite of both children and their parents for nearly 50 years. The largest gallery displayed Carle's prints – you were encouraged to try and find the personal touches, like his kids' initials, hidden throughout his works – while the other two galleries displayed the work of other children's book illustrators, including Louis Darling, who illustrated 12 of Beverly Cleary's early books.
Tip: Even though there is an arts and crafts room and a small library of children's books, I think the museum is most appropriate for older children and teens with an interest in art and illustration.
One more thing
And if you're looking for good music in a relaxed, family-friendly setting, head out to the Green River Festival, which is held each July in Greenfield. I just returned from my seventh visit. (You can read about my sixth visit here.)
Where to eat
The Two Riveras always know where to go for good eats, and they raved about Red Rose Pizzeria in Springfield and Burgundy Brook Café in Palmer. My favorites include the Brass Buckle in Greenfield and Champney's Restaurant & Tavern in Deerfield.
Where to stay
We stayed at the Holiday Inn Springfield-Enfield, which actually sits on the other side of the Massachusetts border in Connecticut, and were particularly impressed by the on-site restaurant.
I was a guest of Massachusetts Office of Travel and Tourism and the Valley Visitor Center, and thank them for the opportunity to explore more of western Massachusetts. All opinions are my own.
---
---