Girls' Getaway at the Hawthorn Inn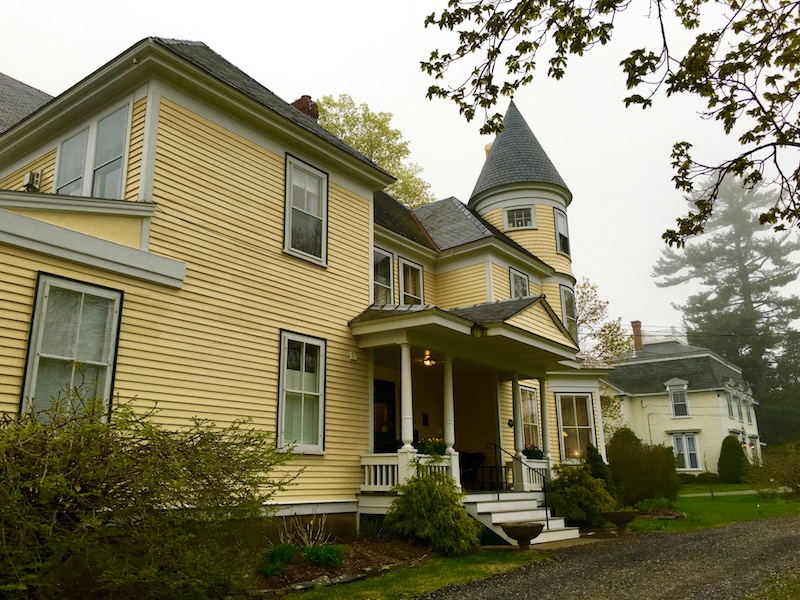 Maine's motto is "the way that life should be," and it's no surprise that once you cross the border, the air seems cleaner, the trees seem taller, the roads seem wider, and the people seem way nicer.
That's why I jumped at the opportunity to check out the Hawthorn Inn in Camden, Maine, for Select Registry. I visited two of their other properties – the Manor on Golden Pond in Holderness, New Hampshire, and the Deerfield Inn in Deerfield, Massachusetts – solo, but this time I was in the mood to have a buddy tag along since my birthday was a few days later.
Luckily my friend Sara was up for joining me. And – bonus – she had just gotten a new car, so she volunteered to drive. After picking me up around noon in her new wheels, we headed north from Boston with the goal of having a relaxing girls' weekend in the beautiful state of Maine.
Living in New England, we are both used to tolerating less-than-ideal weather; however, we were still a little dismayed that it was cloudy and rainy for most of our drive. It was almost dark by 4:30 p.m. when we pulled into Camden, and a heavy fog covered the small coastal town.
We found the Inn quickly – it sits just beyond the cluster of shops that line Camden's Main Street – and were welcomed by a friendly "Mainer" named Deb. Because tourist season doesn't start in Maine until Memorial Day, two weeks after our visit, we were offered one of four rooms located in the Carriage House, which sits behind the Inn's Main House. Much to our delight, our second-floor room featured both a king-sized bed and a large day bed, giving us plenty of space to spread out our tired selves and our stuff. Other comforts included two wicker chairs, a bistro table, gas log fireplace, large soaking tub, and a private balcony.
When I started researching where to eat dinner Friday night, one restaurant in particular, a Thai place called Long Grain, stood out for the rave reviews it's received (even from the New York Times). Needless to say, I was skeptical, since seafood is more standard fare in those parts. But we decided to check it out and were very glad we did. The cozy interior seats only about 30 – a reservation is a must, even off-season – but the friendly staff never rushed us as we sampled a few of the craft beers, and shared fresh spring rolls and homemade noodle dishes.
Most of the town was shut down by the time we left Long Grain, so we picked up "dessert" – a bottle of wine and some chocolate bars – next door at Rite Aid (Yes, you can buy wine in grocery and convenience stores in Maine!). Back at the Carriage House, we spent the rest of the night gossiping, painting our nails and watching mindless television – the perfect way to end a busy week.
We were thrilled when we were greeted by sunshine the next morning – we could "almost" see the harbor through the trees surrounding the property. At breakfast, which was served on the first floor of the Main House, we were able to chat with the owners, Pennsylvania transplants Lisa and Ted, who "retired" to Maine in June 2014 to run the Inn. Lisa had been wonderfully helpful via email when I set up the visit, so it was nice to put a face to the name. She prepared for us what is now one of my all-time favorite breakfasts – fruit salad followed by a perfectly cooked frittata topped with goat cheese and fiddleheads from the local farmers' market.
After fueling up, we drove to the entrance to Camden Hills State Park about a mile up the road, then set out on foot to tackle Mount Battie. It was the first hike I've done in a long time, due to some health issues, and I was a little worried about keeping up with my marathon-runner companion. However, the hour-long trek to the 800-foot summit wasn't too challenging – we were pretty much at sea level, after all. Even so we took plenty of time before coming back down to soak in the sunshine and savor the sweeping views of Penobscot Bay and surrounding hills. We could even see as far as Cadillac Mountain, which sits in Acadia Park to the north.
One not-to-miss experience in Camden is taking a spin around Penobscot Bay on a classic Maine windjammer. There are several companies that offer tours – we decided on a late afternoon sail on Schooner Olad because we received a small discount with our Hawthorn Inn stay. For two very pleasant hours, we enjoyed calm seas, a warm breeze and tall tales told by our captain, a burly Tennessee transplant, about the million-dollar homes that line the rocky coast and the area's thriving lobster industry. (Fun fact: There are 1.7 million lobster traps in Penobscot Bay!)
After picking up a few gifts and souvenirs in the Main Street shops, we left back down south, stopping in Portland for the night to break up the drive and check out one of the city's hottest restaurants – Union – for dinner. Sunday morning we were up early and arrived home, relaxed and ready to face life back in the big city.
Camden Recommendations
Following our hike, we had a hearty lunch at the Camden Deli on their second-story deck, which overlooks the bay.
Jo Ellen Designs is jam-packed with a wide assortment of accessories, home goods, gifts, and kids' books. I found some cute Swedish dishtowels. (And they give 10% of their after-tax profits to charity!)
The Camden Farmers' Market runs from early May through late November on Saturdays and mid-June into September on Wednesdays.
I was a guest of the Hawthorn Inn, thanks to a collaboration with Select Registry. All opinions are my own.
Banner image: The Queen Anne-style Hawthorn Inn was built in the 1890s and converted to a bed and breakfast in converted to bed and breakfast in 1984.
---
---