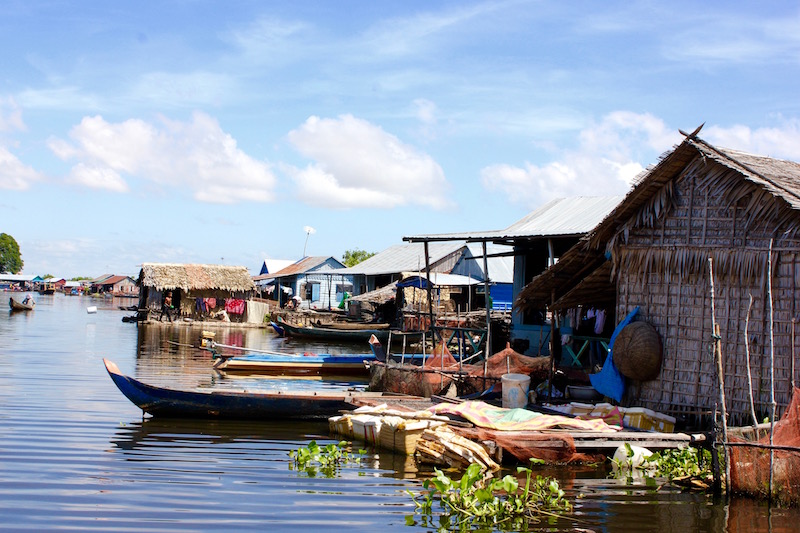 Today is World Water Day, which brings attention to the fact that 1.8 billion people around the globe live without access to clean drinking water.
Anyone who has traveled to developing countries knows all the tips to avoid getting sick from contaminated water – asking for drinks without ice, avoiding fruits and vegetables that have been washed, and using bottled water to brush your teeth. 
But can you imagine being at risk of contracting water-borne illnesses like cholera, dysentery, typhoid, and polio every day of your life? To help spread the word about the world water crisis, I put together this list to help educate travelers and encourage them to become part of the solution.  
Take a tour that gives back.
Visit.org, a portal for travelers to find and book locally run, immersive experiences, promotes several tours that benefit communities' clean water projects, including:
Eco Filtro in San Lorenzo el Cubo, Guatemala, which gives travelers a look at a water filter factory (each visit funds a water filter for a local school);
Entanda Discovery Tour in Kijjude Village, Uganda, which teaches travelers about Ugandan hunting, leisure and cooking traditions; and
RDO Trust in Ooty, India, which leads travelers on a trek through the Blue Mountains.
Join forces with NGOs working globally.
Two organizations leading the way to help end the world water crisis are Charity Water and The Thirst Project. Charity Water is a fundraising powerhouse that partners with rural communities in 24 countries to fund their clean water projects, while The Thirst Project, which runs projects in seven countries, educates young people about the crisis and empowers them to take action through fundraising and awareness campaigns.
Read A Long Walk to Water.
A Long Walk to Water is a young adult book that melds the true story of Salva Dut, a former "Lost Boy" of Sudan, with the fictional story of Nya, a girl who must walk two hours each way, twice every day, to a pond to fetch water for her family.
At the age of only 11, Salva had to flee his home and walk hundreds of miles to a refugee camp in Kenya. In 2003, without knowing a word of English, he was relocated to Rochester, N.Y., where he had to learn everything from how to turn on a light to how to drive. He later founded Water for South Sudan, Inc. to build wells in his native country.
Use your own water bottle.
I try very hard to limit my use of bottled water at home and abroad, since it is bad for the environment all the way around. So I always have a foldable water bottle in my carryon when I travel (It's great to bring on flights – I fill it up at a water fountain after passing through security). Since filtered water is sometimes hard to find, you can purify water on the go with a LifeStraw portable filter or use a GRAYL water bottle, which has a built-in filter.
You can get 10% off GRAYL bottles with the code IMMERSION thanks to Immersion Travel Magazine. Also, Nomad Traveler, which offers eco-friendly and ethical travel products, sells a GRAYL bottle and recycled bottle carrier together for $69.
Conserve water at home too.
Many of us in the Western world are blessed with an abundance of resources, so we often don't think twice about turning on a faucet. But there is a lot you can do in your own home to conserve water, including:
installing water-efficient toilets, shower heads, faucets, and appliances;
turning off the water while you brush your teeth or wash dishes;
limiting your time in the shower;
taking your car to the car wash instead of doing it yourself;
planting drought-resistant grasses, shrubs and trees, and watering your lawn sparingly; and
reusing water around your home (I always water plants with water I've used to cook pasta or boil eggs, for example).
There are more resources available on the World Water Day website.
Pin it!
Please note that this post includes affiliate links that help support the blog.