Instagram Roundup: Two Weeks in the Philippines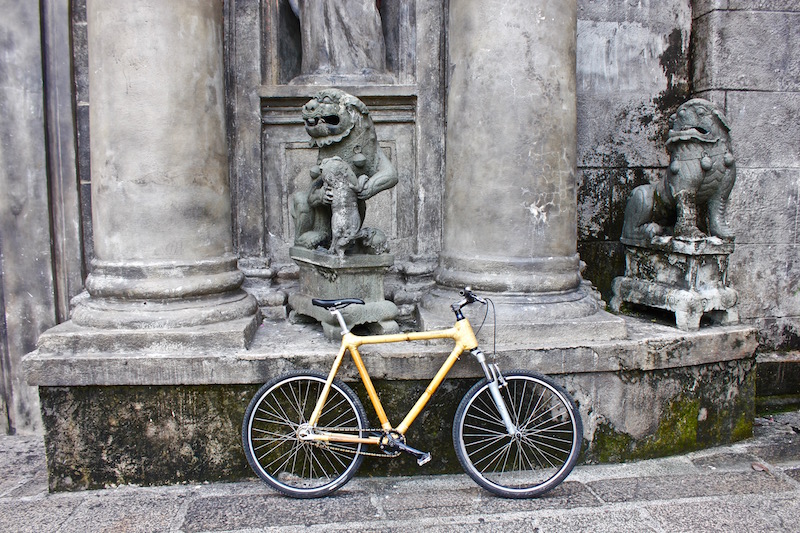 Recently I spent two weeks in the Philippines exploring Palawan and Manila. Check out what I saw and did during that time.
They say, "It's more fun in the Philippines," and I got to find out for myself that the country certainly lives up to its tourism slogan during my visit in October for TBEX Asia Pacific. Below is my 15-day itinerary, along with some of the views that I captured on Instagram along the way.
Two Weeks in the Philippines: Itinerary
Part 1: Palawan
Day 1 – After a very long flight from New York City by way of Taipei, I landed in Manila at about 11:30 p.m., hopped in a cab and spent the night near the airport at DG Budget Hotel.
Day 2 – I was up and out early on a Cebu flight to Puerto Princesa on the island of Palawan. After checking into my hostel, I spent hours exploring the port city on foot and waiting out the evening rain shower at a Vietnamese restaurant.
Day 3 – I toured Underground River in Sabang, which is about two hours away from Puerto Princesa. It's a UNESCO World Heritage site and one of the seven natural wonders of the world. It's what initially drew me to Palawan, and it did not disappoint, even though I have no photos to prove it (needless to say, caves are dark). Tip: I booked the tour in advance through my hostel; there are only a limited number of entrance tickets available each day, so plan ahead.
Day 4 – I swam with (whale) sharks! I extended my stay in Puerto Princesa in order to have this once-in-a-lifetime experience with Dolphin and Whales Travel and Tours (You can see a photo in my October roundup post). Unlike other locations in the Philippines, this was a completely natural encounter.
Day 5 – This was a looong day. I spent seven hours riding in an un-airconditioned van to get to El Nido, on the tip of Palawan. Fortunately, I snagged the front seat, so I got some air, but that also meant I was forced to witness the route's twists and turns. I arrived in late afternoon, checked into the trendy Spin Designer Hostel and then refueled at Artcafe, a popular backpacker restaurant.
Day 6 – The most popular activity in El Nido is "island hopping," which is as great as it sounds. You can chose from four boat tours – A, B, C, and D – and my friends and I chose A, "beaches and lagoons," the most popular one (We booked it through the hostel the night before). We made five stops, but with the exception of the beach where we ate lunch, we were joined at each by dozens of other tourists. The scenery was worth it, though. Tip: Wear sturdy water shoes. I forget mine and got quite scratched up by the coral when trying to get from the boat to a beach in rough water.
Day 7 – This day started and ended with an adrenaline rush. My friends and I took the zipline down to Las Cabanas Beach, where we spent a few hours reading, napping and sipping cocktails with hardly anyone else in sight. Sadly I had to leave early that afternoon for Manila. Since there was no way I was going to do that drive back to Puerto Princesa to catch my flight from there, I bought a one-way ticket to Manila for about $100 on AirSWIFT. It was the most terrifying 55 minutes in my life because it was a very tiny plane, and we flew in a very bad thunderstorm. But we made it. I ended the night with a well-deserved drink at the Sofitel.
Part 2: TBEX Asia Pacific
Day 8 – The reason I was in the Philippines was for TBEX Asia Pacific, and the Corregidor Island tour was my first "pre-BEX" activity organized by the Department of Tourism. The other TBEX attendees and I took a 90-minute ferry ride out to the island, which sits at the mouth of Manila Bay. We and had a very full day of hopping off and on a trolley to view the island's ruins, museum, monuments, and cemeteries, which ended with a tour of the supposedly haunted Malinta Tunnel.
Day 9 – My second "pre-BEX" activity was a bike tour of the walled city of Intramuros – Manila's original Spanish settlement – with Bambike Ecotours, a social enterprise that employs low-income individuals to craft bikes from bamboo by hand. I enjoyed getting some exercise away from Manila's traffic and high rises, and seeing a small slice of the country's history.
Days 10 and 11 – TBEX was two jam-packed days of learning and partying with hundreds of other travel bloggers and writers. It was exhilarating and exhausting. Read more about my and other bloggers' experiences.
Day 12 – I participated in the post-TBEX volunteer FAM trip with four other fantastic and fascinating bloggers – a Kiwi named Jub, a Dane named Palle, and two lovely Canadians named Mel and Lauren. We spent the morning attempting to help build houses at the Gawad Kalinga community in Quezon City, which is home to visually impaired people and their families. We then drove out to the idyllic GK Enchanted Farm in Angat, which is only 58 km from Manila, but feels much further away due to the abundance of open space. Upon checking into our comfortable rooms at the retreat center, we were greeted by friendly volunteers and served a farm-fresh meal.
Day 13 – We had a full day of learning about how GK Enchanted Farm is working to end poverty in the Philippines. It's a training ground for future social entrepreneurs, so there is a school on the property, and it also serves as an incubator for numerous socially responsible companies, which produce everything from carabao yogurt to peanut butter to stuffed animals to shampoo.
Day 14 – We were able to get our hands dirty on our last morning on the farm, planting seeds and putting numbered tags on the collars of baby goats. Unfortunately, we had to leave the goats behind when we departed for Manila. Because we had to rough it on the farm, the Department of Tourism was nice enough to arrange a night for us at The Henry Hotel, which I greatly appreciated.
Day 15 – My last day in the Philippines was mostly spent relaxing at The Henry's beautiful, secluded property, although I did briefly escape for a manicure at the Mall of Asia to get the farm dirt out of my nails. I very reluctantly left for the airport around 1 a.m. for the long journey back to the U.S.
Pin it!
---
---