A Visit to Colby Farm Sunflower Field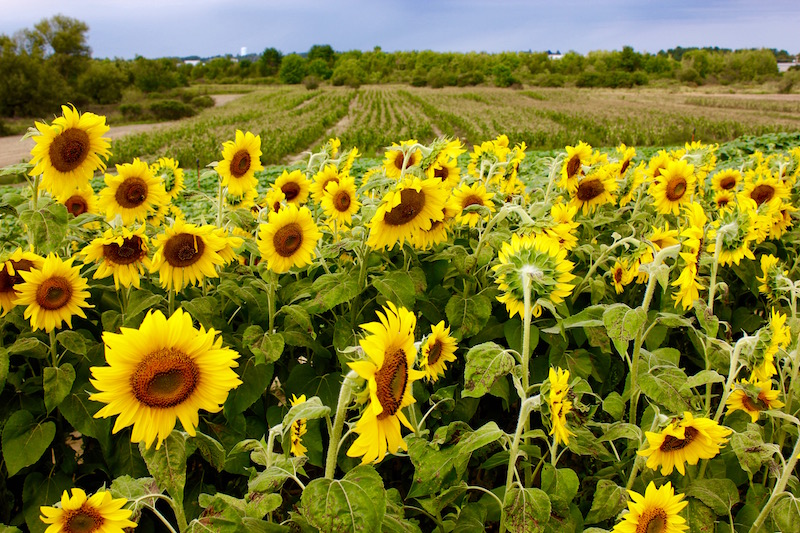 Given that I was recently away from Boston for 11 days visiting family in New Jersey and friends in Colorado, I really wanted (and needed) to be productive this past weekend. But that went out the window when I heard from my friend Kristin that the Colby Farm sunflower field was in full bloom.
A visit to the sunflower field has been on my Boston-area "bucket list" for a while, so I couldn't say no when she asked if I would accompany her for an afternoon of Instagramming. Our visit was just in the nick of time – the beautiful blooms are expected to droop this week.
The sunflower field takes up just two gently sloping acres of the 370-acre Colby Farm, which sits off 95 North about 45 minutes from Boston. The field itself is much smaller than I expected, and needless to say, it's quite a popular destination. We had to get creative with our picture taking to avoid the dozens of families posing for what will very likely to be their holiday card photo (Some even had professional photographers in tow).
We worked up an appetite after about 30 minutes of crouching, stretching and jumping to get some clear shots – my favorites are above and below – so we headed to the farm stand, which sells a good variety of locally sourced vegetables, fruits, meats, baked goods, and more. And, since fall is almost here, you can chose from a variety of mums and cool-weather plants.
Tips & Recommendations
There is no charge to park, and there is no entrance fee for the sunflower field.
Keep your eye on the website to see when the sunflowers are in full bloom. Given the crowds, you might want to try to visit at the beginning or end of the day. Colby Farm is open from 9 a.m. to 6:30 p.m.; however, on our way home from dinner, the parking lot was still full close to 7:30 p.m.
There are many shops, cafes and restaurants in downtown Newburyport, just a few miles away, so that makes a good stop as well. We went there after our visit, walked around the waterfront and had dinner at the Port Tavern.
---
---